LAT Racing Oils are the next generation in maximum performance Synthetic Racing Oils, Synthetic Performance Oil, High Performance Petroleum based oil, Break In Oil, Assembly Lubes, Synthetic Oil Additives and Gear Lubricants. Over the past several seasons LAT RACING OILS have become the lubrication of choice for race teams around the globe.
LAT Racing Oils is a hands-on company working closely with top teams in all forms of racing. Our one-on-one interaction and ability to make real time Synthetic, Petroleum and Gear Oil blend modifications to meet specific driveline needs has garnered LAT a reputation for providing Synthetic and Petroleum Racing Oils that produce more power while providing superior protection.
LAT's traveling technical team attends all major events and reports, in real time and directly to LAT chemists and base oil suppliers. This close relationship provides a unique basis for developing specialty additive packages and customs oil blends.
LAT Racing Oils' sophisticated research and development processes, on track testing and hands on communications ensure that our High Performance Synthetic oils, gear oils, oil additives and associated specialty racing and high performance street and factory sophisticated lubricants are in fact The Next Generation in Performance Oils.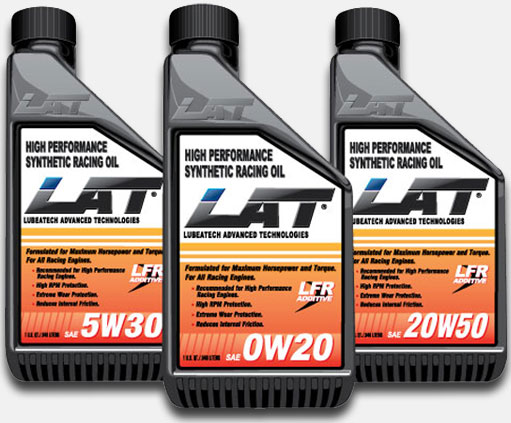 ---